From the Category, "The Eastern Eye"
[The Bible is an "Eastern" book. It was written many years ago in the "East" which today we refer to as "The Middle East."  As such, there are many customs and idioms that are not familiar to the "Western" mind.
In understanding the Scriptures it is important for us to understand the culture, but it doesn't mean that we should necessarily follow that culture. Rather, it is in the understanding of the Eastern culture that we gain light and understanding about many things in the Bible.]
There is a verse in the book of Romans that talks about doing some things for your enemy that will "heap coals of fire on his head."  Some think that this is referring to some sort of revenge.  No, it means nothing of the sort.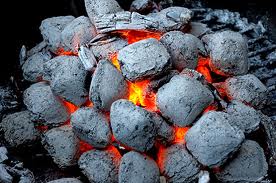 Understanding the culture and how coals from a fire were carried unlocks this simple verse.  A young boy would take hot coals in the morning from the first fire in the village.  Those coals would be put into a piece of pottery.
The young boy would then carry the pottery, with the hot coals inside, balanced upon his head to the other households.  They would in turn take a hot coal to start their own fire.  The young boy would then go to the next family so they could get a coal to start their fire.
Doing this task on cold mornings would be a very pleasant task.  The heat from the coals in the pottery would warm the young boy.  As he went from family to family, he was very warm while performing this simple duty.
The scripture talks about doing certain things for your enemy, and that by doing those things, you are heaping coals of fire on their head.  This doesn't mean revenge, but rather, in doing those things you might warm his or her heart and they just might change.
You and I may never know how a smile, a kind word, or a loving action may impact someone else's life.  As God's children we endeavor to exhibit our Father's love to everyone we come in contact with.  The Bible instructs us that, if at all possible, live peaceably with all people.
Romans 12:18-21:
Recompense to no man evil for evil. Provide things honest in the sight of all men.

If it be possible, as much as lies in you, live peaceably with all men.

Dearly beloved, avenge not yourselves, but rather give place unto wrath: for it is written, Vengeance is mine; I will repay, says the Lord.

Therefore if your enemy hunger, feed him; if he thirst, give him drink: for in so doing you shall heap coals of fire on his head.

Be not overcome of evil, but overcome evil with good.
Mike Verdicchio
2011
Leave A Comment!
Do you have some thoughts about this?  We'd love to hear what you think.  To leave a comment if you are receiving this post via email or RSS, just click the title above and scroll to the bottom of the post and type in your comment.  If not, just scroll to the bottom of this post and type in your comment.
Share This Article!
To share this article on social media, like Facebook, or, Twitter, there are links below.
Resources
There are a number of books that you can read to get insight on customs, manners, idioms and meanings from the Eastern culture in which the Bible was written.  The best I know of were written by Bishop K. C. Pillai.  I have had the pleasure of listening to many recorded teaching by him.
He wrote three books, and they are hard to find, and are usually over priced.  But, if you want to you can check this link to see what Amazon has to offer. Light Through an Eastern Window
Another great resource that I have used for years is a book called, "Manners and Customs of the Bible," by James Freeman. Mine was printed in 1972 and I know they have newer additions. For the newest edition, just click the link and it will take you to Amazon. The New Manners and Customs of the Bible (Pure Gold Classics)