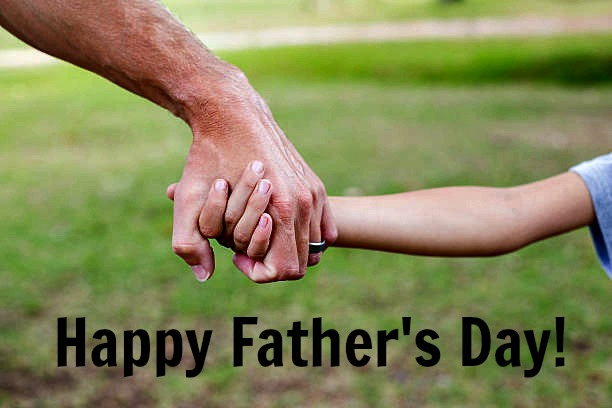 A shout of congratulations to all men who work diligently and tirelessly to be a good father, whether a biological father, a stepfather, or a spiritual father.
This Sunday, June 18, is Father's Day. My dad is not alive, so, I can't give him any personal praise or recognition, or even say, "Thanks. Dad; I love you. "  But, I'm sure many dads will hear that from their children. And, as a dad, I know what love, respect and gratitude from a child means to a dad.
Some Quotes For Father's Day
We never know the love of our parents for us till we have become parents.
Henry Ward Beecher

My father didn't tell me how to live; he lived, and let me watch him do it.
Clarence Budington Kelland

By profession, I am a soldier and take pride in that fact. But I am prouder – infinitely prouder – to be a father. A soldier destroys in order to build; the father only builds, never destroys. The one has the potentiality of death; the other embodies creation and life. And while the hordes of death are mighty, the battalions of life are mightier still. It is my hope that my son, when I am gone, will remember me not from the battle field but in the home repeating with him our simple daily prayer, 'Our Father who art in Heaven.'
Douglas Macarthur

I think my mom put it best. She said, 'Little girls soften their daddy's hearts.'
Paul Walker

I was raised in the greatest of homes… just a really great dad, and I miss him so much… he was a good man, a real simple man… Very faithful, always loved my mom, always provided for the kids, and just a lot of fun.
Max Lucado

None of you can ever be proud enough of being the child of such a Father who has not his equal in this world – so great, so good, so faultless. Try, all of you, to follow in his footsteps and don't be discouraged, for to be really in everything like him none of you, I am sure, will ever be. Try, therefore, to be like him in some points, and you will have acquired a great deal.
Queen Victoria of England

The greatest gift I ever had
Came from God; I call him Dad!
Author Unknown

A wise son brings joy to his father
Proverbs 10:1a (NIV)
I am also mindful it was Jesus who introduced the concept to the world of God, the Creator of the heavens and earth, as being our Father. And what a great concept and truth that really is!