From the Category, "The Eastern Eye"
[The Bible is an "Eastern" book. It was written many years ago in the "East" which today we refer to as "The Middle East."  As such, there are many customs and idioms that are not familiar to the "Western" mind.
In understanding the Scriptures it is important for us to understand the culture, but it doesn't mean that we should necessarily follow that culture. Rather, it is in the understanding of the Eastern culture that we gain light and understanding about many things in the Bible.]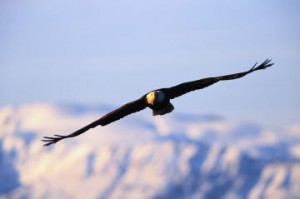 In the fifth verse of Psalm 103, God promises to satisfy us with good things so that our youth is renewed like the eagle is renewed.  In order to understand this verse of Scripture, let's first consider the eagle.
It is both interesting as well as noteworthy that eagles are mentioned and used as a comparison numerous times in the Bible. The eagle, like other comparisons, is mentioned in places where its characteristics help make the point. Understanding some characteristics of eagles helps us to understand the comparisons.
For instance, Deuteronomy Chapter 32 refers to God as an eagle, fluttering over the young, spreading out His wings, and then bearing them on His wings.
A mother eagle will stir up the nest and let the babies drop and then catch them with her wings.  This is how she teaches them to fly.  God wants us to fly and soar.  He is so willing to catch us, help us, and carry us until we can indeed fly.
In Exodus 19:4, God reminds Moses that He bore the nation of Israel on eagle's wings.  In other words, He carried the whole nation on His wings, just as a mother eagle would carry her young on her wings.  That is quite a picture of God's great power, care, and concern.
There are numerous comparisons in the Bible using the eagle.  One such case is Psalm 103, where it talks about our youth being renewed as an eagle is renewed.  How is the youth of an eagle renewed?
I have read of different methods that different types of eagles have to shed their old feathers.  One method I read was that of the eagle plucking out every feather on his body until he is completely bare. He stays in a hiding place until he has grown new feathers, then he can come out.
Another method I have read about is when an eagle will shed his old cumbersome feathers by entering into a body of water.  At that point the old feathers are shed.  The eagle then stays close to shore protecting himself and eating what food he can, waiting for new feathers.  Once he has his new feathers, his strength is renewed, and it is compared to his youth being renewed.
The book of Isaiah says that those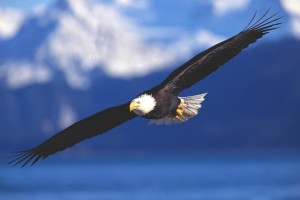 who wait upon the Lord will renew their strength; they shall mount up with wings as eagles; they shall run, and not be weary; and they shall walk, and not faint.
Our "youth," or specifically, our spiritual walk with God, can be renewed, as we shed the old, and get the new.  There are a number of verses in the New Testament that refer to putting off, and putting on.  We are to put off the old man and put on the new man.
Just like the eagle cannot get his new feathers until he gets rid of his old feathers, we too must put off, cast down, or lay aside the old and then put on the new.
We make a conscious mental effort to put off the actions of the old nature.  We determine mentally that those old things will no longer be a part of our lives.  And then we replace them with what the Bible declares to be our new nature.
For example, in Ephesians it says to put away lying and speak every man truth with his neighbor.  Lying is part of the old nature.  Speaking the truth is a characteristic of the new nature.
So we can mentally determine to put away lying; we can shed those old feathers. And in it's place we make a conscious mental decision to speak the truth. In doing so, we can then walk with God unencumbered by the old.
As we shed the old feathers and put on the new in their place, we are renewed.  We can walk with Him and not faint.  We can run with Him and not be weary. We can be renewed and mount up with wings of eagles.
Psalm 103:5
Who satisfies your mouth with good things; so that your youth is renewed like the eagle's.

Deuteronomy 32:9-12
For the Lord's portion is His people; Jacob is the lot of His inheritance.

He found him in a desert land, and in the waste howling wilderness; He led him about, He instructed him, He kept him as the apple of His eye.

As an eagle stirs up her nest, flutters over her young, spreads abroad her wings, takes them, bears them on her wings:

So the Lord alone did lead him, and there was no strange god with him.

Exodus 19:4
You have seen what I did unto the Egyptians, and how I bare you on eagles' wings, and brought you unto myself.

Isaiah 40:31
But they that wait upon the LORD shall renew their strength; they shall mount up with wings as eagles; they shall run, and not be weary; and they shall walk, and not faint.

Ephesians 4:22- 25:
That you put off concerning the former conversation the old man, which is corrupt according to the deceitful lusts;

And be renewed in the spirit of your mind;

And that you put on the new man, which after God is created in righteousness and true holiness.

Wherefore putting away lying, speak every man truth with his neighbor: for we are members one of another.

II Corinthians 10:5
Casting down imaginations, and every high thing that exalts itself against the knowledge of God, and bringing into captivity every thought to the obedience of Christ;

Hebrews 12:1
Wherefore seeing we also are compassed about with so great a cloud of witnesses, let us lay aside every weight, and the sin which doth so easily beset us, and let us run with patience the race that is set before us.
Mike Verdicchio
Leave A Comment!
Do you have some thoughts about this?  We'd love to hear what you think.  To leave a comment if you are receiving this post via email or RSS, just click the title above and scroll to the bottom of the post and type in your comment.  If not, just scroll to the bottom of this post and type in your comment.
Share This Article!
To share this article on social media, like Facebook, or, Twitter, there are links below.
Resources
There are a number of books that you can read to get insight on customs, manners, idioms and meanings from the Eastern culture in which the Bible was written.  The best I know of were written by Bishop K. C. Pillai.  I have had the pleasure of listening to many recorded teaching by him.
He wrote three books, and they are hard to find, and are usually over priced.  But, if you want to you can check this link to see what Amazon has to offer. Light Through an Eastern Window
Another great resource that I have used for years is a book called, "Manners and Customs of the Bible," by James Freeman. Mine was printed in 1972 and I know they have newer additions. For the newest edition, just click the link and it will take you to Amazon. The New Manners and Customs of the Bible (Pure Gold Classics)