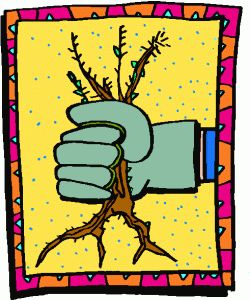 I have written before about how thoughts can be "weed seeds." Negative or destructive thoughts in our mind are very similar to weeds in a flowerbed or garden. They will grow and flourish unless we get them out!
Can The Words That We Speak Be Weed Seeds Too?
The Bible says that out of the abundance of the heart the mouth speaks. In order to speak something it needs to be in our mind or heart; and then we say it. Many times this happens simultaneously.
Speaking something reinforces the thought or belief to ourselves. For example, you may have heard someone recently say, "If things don't change, we are going into a deep depression in our country."
Those Are Words. They Plant Seeds.
Words that you hear can settle in your mind and take root. Then, the next thing you know you are telling someone else about a looming depression. And as soon as you say those words, just like thinking those words, it's like nourishing that new "weed seed" in your mind. And, we all know how fast weeds can grow!!
I have no control over tiny seeds blowing into my flowerbed. Neither do you! But I do have control over what I plant in my flowerbed! So do you! And I doubt very seriously that you have ever planted a weed. I never have. Why? Because neither of us are that dumb!
So, if I choose to not plant weeds in my flowerbed or garden, why would I want to plant weeds in my head? The things that I choose to think about and say can and do plant weeds.
You Can Choose To Think About "Lack," But…
If you think about and dwell on your lack, you will see your lack continue to grow. You nurture that lack by speaking about it, by telling yourself and others how much lack you have. And, your focus remains on what you don't have, your lack! But instead, you can choose to think on abundance! Abundance? How can someone possibly choose to think on abundance when they have lack? How can you dare to plant an abundance seed in your mind during these very critical times?
Well, why not? Abundance and prosperity are promised by God in the Bible! Have you ever considered nourishing abundance and prosperity seeds in your mind and allowing them to flourish?
If you wanted a beautiful flowerbed, you would certainly have no qualms about planting the seeds to grow those flowers. You wouldn't think that because they are just seeds, they won't make a difference.
Those who have lack and continue to think about their lack and talk about their lack, will evidence nothing but lack. Each time they do, it's like watering and fertilizing that lack seed. We certainly would never intentionally do that with a weed in the flowerbed, would we?
Have You Ever Had A Garden Or Flowerbed?

In the flowerbed, or garden we see and recognize the weeds. They are there. We then do whatever we need to do to get them out! We remove them! "It's time for you to go!" And in its place, we plant what we do want to grow.

Why not take the time to water and nurture the seed of abundance? Yes but, what about the economy? Regardless of whether the economy is up or down, or sideways, it is never God's will for you to lack. He has promised to supply all that you need so that your life is fulfilled, regardless of the economy.
He has promised to give you the desires of your heart, regardless of the economy. He said that He wishes above all things that you would prosper and be in health, regardless of the economy.
Those are really good seeds to plant in your mind! Why not try those out for a while? Replace the lack seeds with abundance seeds.
Take a look and see what's growing in the garden of your mind. Take an honest look! What kind of thoughts are you thinking? What are you talking about? In every category of your life, get rid of the weeds and plant the promises of God!
Mike Verdicchio
<><><><><><><><><><><>
Subscribe For Free To This Blog And Get A Free Membership To:

Get each and every new Confidence And Joy post sent directly to you for
FREE!
You'll never miss an article, video or podcast - they will all come right to you!
Plus, when you subscribe, you'll also receive a
FREE Lifetime Membership
to "Enriching Your Life Now!"
More Info
Email Sign Up
RSS Sign Up