Boxed Greeting Cards From DaySpring

When was the last time you bought a greeting card?  They are priced anywhere from $2.95 to $4.95. The last card I bought cost $3.95. It takes time and gas to go to the store, plus the time it takes you to actually find a card that you like.
In these economic times, we are all trying to save some money wherever we can. Why not save time and order your cards from a name you trust, and save yourself a lot of money too?
Send a Real Card!
I have received and sent plenty of DaySpring greeting cards via email.  Maybe you have too.  But, when an email card just won't do, and you want to send a real card, you can simply order a box of DaySpring cards, and save a lot of money.
Their prices range from $4.99 to $9.99 for a box of 12.  That's a huge savings!
If you like to send out Christian themed cards, DaySpring has a lot to choose from.  Whether it's a birthday, an anniversary, a thank you, or get well, (and lots more) they offer a really great selection.  They even have seasonal Christian cards, blank cards, and song cards too.
On Sale!
I spent some time on their web site, looking at their cards. I saw that right now they have some sales going on, including Christmas cards.  One box of 48 assorted cards was on sale for $7.49.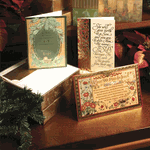 Yes, of course they have tons of other Christian items, but I was only interested in the cards.  In these economic times, we are all trying to save money.  But you can still send a card to those you love, and save a lot of money with cards from DaySpring.
Click the banner below and browse around.  And, if you do decide to purchase some cards from them, come back to this post and leave us a comment.