It's Another Video!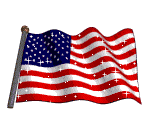 Today is Veteran's Day, and I have a very special video.  But let me first say a very heartfelt and sincere, "Thank you," to all veterans.  Thank you for your service to our country.
For many years on my radio show, on Veteran's Day, I did a special short presentation about why I so heartily support our veterans.  Today, I wanted to once again tell why.
Enjoy the video.
[If you cannot see the player below, just click the title above]

The Medal Of Honor
The Medal of Honor is the highest military decoration awarded by the United States government. It is bestowed on a member of the United States armed forces who distinguishes him or herself "conspicuously by gallantry and intrepidity at the risk of his or her life above and beyond the call of duty while engaged in an action against an enemy of the United States.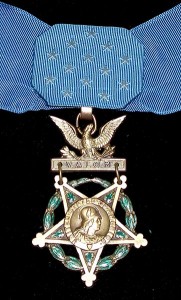 The Medal of Honor is often presented personally to the recipient by the President of the United States. It is frequently called the Congressional Medal of Honor, stemming from its award by the Department of Defense "in the name of Congress" though the official and correct title is, Medal of Honor.
Most military veterans have never actually seen a Medal of Honor, much less met one of the few authorized to display it around their neck.   Since it was established in 1862 at the beginning of the Civil War, it has only been awarded to only 3,448 heroes and almost half of them Civil War soldiers.
On Veterans Day 2007, I had the privilege of receiving an award from the Arizona Department of Veterans" Services.  I can't tell you what a thrill it was to receive that award from Chief Warrant Officer, Fred Ferguson, a recipient of the Medal of Honor.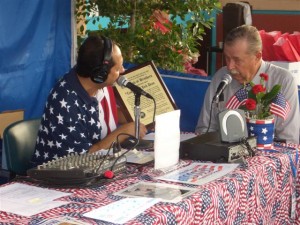 Chief Warrant Officer Ferguson's official Medal of Honor citation reads: For conspicuous gallantry and intrepidity in action at the risk of his life above and beyond the call of duty. CWO Ferguson, U.S. Army distinguished himself while serving with Company C. CWO Ferguson, commander of a resupply helicopter monitoring an emergency call from wounded passengers and crewmen of a downed helicopter under heavy attack within the enemy controlled city of Hue, unhesitatingly volunteered to attempt evacuation.
Despite warnings from all aircraft to stay clear of the area due to heavy antiaircraft fire, CWO Ferguson began a low-level flight at maximum airspeed along the Perfume River toward the tiny, isolated South Vietnamese Army compound in which the crash survivors had taken refuge. Coolly and skillfully maintaining his course in the face of intense, short range fire from enemy occupied buildings and boats, he displayed superior flying skill and tenacity of purpose by landing his aircraft in an extremely confined area in a blinding dust cloud under heavy mortar and small-arms fire.
Although the helicopter was severely damaged by mortar fragments during the loading of the wounded, CWO Ferguson disregarded the damage and, taking off through the continuing hail of mortar fire, he flew his crippled aircraft on the return route through the rain of fire that he had experienced earlier and safely returned his wounded passengers to friendly control.
CWO Ferguson's extraordinary determination saved the lives of 5 of his comrades. His actions are in the highest traditions of the military service and reflect great credit on himself and the U.S. Army.
From Last year on Veteran's Day

God bless all our veterans, and may God continue to bless and shine His light on the United States of America.
Leave A Comment!
Do you have a comment about this video?  We'd love to hear what you think.  Please type your comment below.
Post This Video On Your Site!
Do you want to post this video on your website or Blog?   It's easy.  Click Here to get to this video on You Tube.  Once you are there, simply copy/paste the embed code on to your site.  Or, if you like, use the buttons below to post this video on Facebook or other social media.  http://www.
Related Posts:
We Support The Troops
Born Again American
A High School Teacher Imparts A Lesson
See the About page to hear the interview with Connie Stevens
For past videos and podcasts, click the tabs above.  Look for more videos as well as more podcasts coming soon to Confidence And Joy!