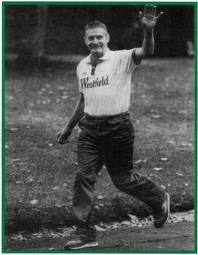 What Cliff Young did 27 years ago is still inspiring people today.  Maybe you know his story.  I thought it would inspiring to relate it again today.
Cliff Young is still a hero in Australia.  And there are some parallels from his story that all of us could apply today.  That's because there are a lot more obstacles in our world today then there were a few short years ago.
Many people are confused about what has happened and afraid of what is going to happen.  There are some who believe that because of the current economic situation, success is no longer an option; they feel like everything is against them.
This Guy Is Nuts!
But back in 1983 there were plenty of people who thought that Cliff Young was out of his mind, absolutely crazy to even consider running in a race.  After all, this was no ordinary race.  This was the Sydney to Melbourne race, considered to be the world's toughest race.  The distance is 875 kilometers, or just over 543 miles!
That year almost every one in Australia who found out Cliff was participating thought it was insane for him to undertake such an impossible feat.  The reason they thought it was impossible for Cliff was because Cliff was not a runner.  He had never even participated in a run before.  On top of that, he was 61 years old.  Many feared that he would die trying.
The Sydney to Melbourne race takes at least 5 days to finish.  Cliff Young entered the race against world-class athletes. He accomplished the unthinkable and inspired the whole nation.
Nobody Told Cliff!
The professional athletes participating in that race knew that in order to complete the race, you would need to run 18 hours and then sleep for 6 hours. But Cliff Young, having no experience in these kinds of events, did not know that he should limit himself to running only 18 hours a day.
The morning after the race began, much to everyone's surprise, Cliff was not only still in the race but had not stopped for the night.  He was still far behind the world-class athletes, but he just kept on running, even waving to spectators watching the event on the highways.
Cliff  kept running. Every night he got just a little bit closer to the runners leading the pack. By the last night, he passed all of the world-class athletes. By the last day, he was far in front of them.
And The Winner Is…
Not only did he run the Melbourne to Sydney race at age 61, non-stop, without dying, he won first place, breaking the race record by 9 hours and becoming a national hero!
Australia fell in love with the 61-year-old potato farmer who came from nowhere to defeat the world's best long distance runners.  He finished a 543 mile race in 5 days, 15 hours and 4 minutes.
Cliff did not know that he was supposed to sleep during the race.  He said when running throughout the race, he imagined that he was chasing sheep and trying to outrun a storm. He wasn't even aware that there was a prize for first place.
When Cliff was awarded the first prize of $10,000, he said he did not know there was a prize and insisted that he had not entered for the money. He said, "There are five other runners still out there doing it tougher than me," and he gave them $2,000 each. He did not keep a single penny for himself. This act endeared him to all of Australia.
How's Your Race Going?
So what is stopping you from doing the things that you want to do in your life?  Is it the economy?  Is it the uncertainty of our times?  Have you decided to give up and just accept things as they are?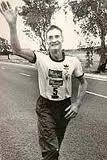 Cliff believed he could run that race, even though from all appearances it was impossible and no one believed in him.  He had persistence.  He simply decided to keep moving forward.
I don't know if Cliff believed in God, but regardless of the economy and regardless of the odds, none of that puts our God out of business.  For those who do believe in God, we not only keep moving forward toward our dreams with persistence, but we put our trust in a loving God Who truly does want to see us succeed.
What is stopping you?  It may not be the current situations we face today.  It could just very possibly be you who is stopping you.
Michael A. Verdicchio
2010
Don't Be Shy – Leave A Comment!
Do you have some thoughts about this?  We'd love to hear what you think. Just scroll to the bottom of this post and type in your comment. (If you are receiving this post via email or RSS, just click the title above and then scroll to the bottom of the post and type in your comment.)
You Might Also Enjoy:
Stop Looking Back
Moving Forward
The #1 Cause Of Failure
Share This Article!
Do you want to share this article on your website or Blog?   To share on social media, like Facebook or Twitter, there are buttons below.
There's More!
For past articles, click on the, "Posts" tab above.  For past videos and podcasts, mouse over the "Posts" tab above.  Look for more videos as well as more podcasts coming soon to Confidence And Joy!
<><><><><><><><><><><>
Subscribe For Free To This Blog And Get A Free Membership To:

Get each and every new Confidence And Joy post sent directly to you for
FREE!
You'll never miss an article, video or podcast - they will all come right to you!
Plus, when you subscribe, you'll also receive a
FREE Lifetime Membership
to "Enriching Your Life Now!"
More Info
Email Sign Up
RSS Sign Up